I had huge dreams of building cubbies in our back entryway. I had dreams of awesome cubbies dancing in my head. Ok mostly thanks to Pinterest. My husband is handy and would be able to do such a project but the time it would take to such a project would just not be worth it.
I needed something functional for the kids to hang up their own stuff NOW.
I was tired of things being all over the living room because the system we had was too diffiuclt for the kids to use.
Our shoe rack for the kids before was a double shoe shelf I got years ago, you can find them easily at any store.
I had put small boxes on top in order to organize each child's shoes which were becoming too plentiful to fit on the shelf. Yet hopelessly the shoes ended up in a messy pile in front of the shelf.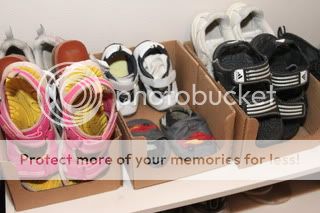 When I did the idea originally it worked ok. Better than just the shelf did before but my kids were a bit younger and the vertical storage toe down is not something a young child likes to take the time to do. It was more of a mom organization type thing than a child friendly one. I needed to make it easier.
So I took the double shelf, and moved the lower shelf all the way to the bottom. This did make it a bit more unstable but in our case it worked fine since we have things on both sides.
On top I put two restaurant trays I got at a thrift store for 25 cents each, These will hold the drippy snow boots. The ridge on the trays provides great barrier for water, and the trays were just the right size to cover the top of the shelf.

On the bottom I happen to have these green bins elsewhere in the house. They fit perfectly so out the toys came and in the shoes hats and mittens went.
This is super easy for the kids to use. They each have their own bin. When things come off they go into their bin. Even my two year old has no problem pulling out his bin to put stuff in it and pushing it back in. Shoes don't have to be lined up and neat, because they are hidden and contained. I can't tell you how great this has worked for us now for the past three months.
This Christmas break was the last push for the coats to be hung up and organized as well. My husband bought boards, routered them and stained them to match our woodwork then put them up everywhere in our entryway. We have a low rack that all three kids can reach. My two year old climbs on the bench to hang his up. Then above that we have higher hooks they will use when they are older. They are storage for some other hats right now.
It may not be the awesome cubbies I had envisioned but it works great, cost very little and was super easy to do. No more piles of coats and shoes all over the house and isn't that what really counts?