My daughter's Valentines party is coming up soon and there was request to have a valentines craft project for the party. So today I started to brainstorm. I can think of TONS of ideas, but many are so girl themed that it is hard to find something both girls and boys would like.
With so much pink around a guy can get kind of scared. So why not add something that generally scares girls too.
BUGS!
What you need:
Paint Swatches
Hole punch
Pencils
Pipe cleaner or feathers
Pen or marker
Scissors (to trim down the paint swatch)
Wiggle eyes
I seriously considered letting the kids paint rocks like bugs, but picturing wet painted rocks traveling home in backpacks put a stop to that. So I decided to look at other free objects I had. When I went down to find my pink and red paper, I spotted my leftover paint swatches from the craft project post just before this one. So I went to work using them to create some sort of bug.
So here is what I came up with.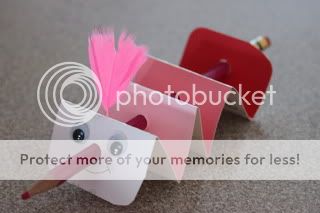 Of course the obvious fold lines work well for 5 and 6 year olds.
I just may have enough feathers, or I will run and get some red pipe cleaners.