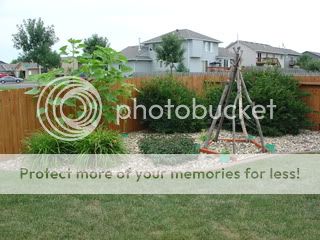 Gardening is great for kids! It helps them learn responsibility and it helps learn about vegetables and how things grow.
This is our Children's garden! Hopefully I can add pictures as it grows this summer the picture above is from a couple summers ago. Love Giant Sunflowers!!! I wanted to share with you some of the special things we have done with it.
First of all the space has rocks. I am not very good at the whole weeding thing so the fact that this space had rock in it didn't bother me. It was actually ideal!
I went to the food service area at the Daycare facility I used to work at. They get fruit and veggies for the kids in large cans. Very similar to the ones coffee comes in. I took nine of these home cut the bottom and top off so that they were a hollow tube.
I took the tubes and spray painted them with light green paint. Inside outside and on all edges. I did this to help slow rusting. Once they were dry I took them out to the garden and placed them where I wanted them to be. I carefully moved the rocks and cut through our landscape fabric so I could bury the cans half way into the ground. Then I placed the rocks back around the outside of the can.
Inside the can I made sure to dig up the ground a bit and add some more dirt. This is where we plant our seeds. If you look closely, you can see our first sprout!!
The chicken wire cages are new this year. We had issues with rabbits last year eating EVERYTHING as it came up, even things that they didn't the first year. So this year we are using the chicken wire tubes we made to protect the seedlings as they come up.
The space already had a few day lilies and a couple lilac bushes. This left the whole front open. I knew just what I wanted to put there.
Our tee-pee frame is made of scrap wood in the shape of a pentagon that we buried part way in the rocks, and five tree branch posts.
We secured it together with screws at the top and at the base. The first year we had some success with getting things to climb up but we had originally used string around the tee-pee for the plants to climb and after a mid summer strong storm the sting gave way and our plants were no longer climbing and badly storm beaten. So we replaced the sting with sturdy wire and we hope this year will be our year! It is enjoyed anyway as it is!
Of course you need a flag! It used to be a pinwheel but it broke. The flag looks better anyway!
You need signs too. These are just scrap wood we had. My daughter painted the flowers on these a two years ago as well. I did the letters and the outline. Yes they are weathered, but work great, and we will probably redo them on a day we need some project to do this summer.
Watering is the best part!
We have planted Sunflowers, Corn, zucchini, Summer squash, cucumbers, and a couple tomato plants in the planter. We will let you know how things turn out this year!
We are also planning on adding and making our own stepping stones this year!