Hooray for cooler weather! This means I can cook things in the oven again!
I have been wanting to share this one since it has been a favorite of my boys. I remember my aunt taught me how to make this one.
Ingredients:
One tube of refrigerator cressants
4 or 5 cooked scrambled eggs
Shredded Cheese
...Diced Ham or Cooked sauage
(optional: onions, greenpepper etc)



How:
Open your tube and unroll enire roll so that it is a rectangle shape. Do not separate into triangles.
Push separations together so that it is one piece.
Down the center of the length put your eggs, cheese and other toppings.
Cut strips from the edges to where your topings are in the middle. Criss cross the strips up an over the toppings in the middle and bake according to the cressant package instructions.
Slice and enjoy!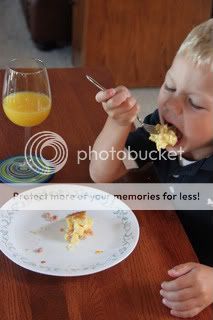 Yum Yum!