This is a good one for the 4th of July! Super easy! Costs very little to make a TON of these things.
I got this idea from an elementary music teacher. She wanted to get dancing ribbon rings for her classroom similar to the ones you see
here
. But obviously 30 rings was not in her supply budget.
Well I have seen these made before with all sorts of thing like a ring cut out of a paper plate and crape paper streamers but honestly that will not hold up to the elementary classroom at all.
When I heard her telling another teacher about how to do these I had no idea how easy and inexpensive they really were, and how cool they end up being.
I have done this craft activity for a children's 4th of July parade for 3 or 4 years now. It is great because you can make hundreds of these things for around $15 or so.
What you need:Plastic tape
- non-sticky tape similar to caution tape found right by caution tape in hardware stores (I buy mine at Ace Hardware for you locals)Around $3 a roll. Each roll has 300 feet on it. For the 4th of July we use Red, White and Blue!
Plastic Shower curtain rings
- I get a pack of 12 clear ones for around $1 at dollar general. If you want to go more "green", I often see plastic shower curtain rings at second hand stores in a bag marked for around $.50 and have bought those in the past too, just run them though the dishwasher first.
Scissors
Yard Stick -optional
Measure out one yard of plastic tape and cut. Repeat two more times so that you have three of these yard lengths. I like to do one color of each.
Take your plastic ring and make sure it is snapped shut. Then take one length of plastic tape and tie it in the middle of the length around the ring. You only need one knot. Like you are starting to tie your shoe. Do it right in the middle of the length so that you have two half yard lengths hanging from the ribbon. Don't pull TOOO hard or you will stretch and break the plastic tape. Once you have gotten your knot down to a small size, slide it into the the narrow part of the ring where you snapped the ring together. Repeat with your other two, yard lengths of ribbon and you are done.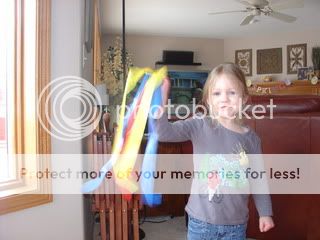 Like I said we have been doing these for a few years now so I got out some of our older photos.
These are great to wave in the air to music. March with down the street. Pretend they are sparklers and draw things with them in the air. Big kids like to play catch with them or toss them way up high like fireworks. The tails flutter though the sky as they travel up and down.