Knock-off wood did it again. Well I guess we did! This time Knock-off Wood posted a project where you didn't have to be perfect, and actually imperfections just add character. My favorite kind of project. Takes the frustration out of it and it becomes pure fun!
I knew right away I wanted to make the Liberty Wall Art project when I saw it posted on Facebook this morning. Knock-off wood posted the plans
here
. They got the idea from... you guessed it. Pottery Barn
here
.
We have a basement of scraps that the kids are allowed to hammer and pound on and do whatever with. This isn't even half of it. We even sometimes use them for firewood. So when I saw this project I was so excited. We had all the materials in the basement including the paint. It happens to be the leftover paint we had from painting the kids play structure. Even the cream paint was old paint from my Mother-in-law who gave it to us last summer in case we could use it for the play structure.
I couldn't wait to get started. I had great helpers. All three kids helped. The two big kids did most of the hammering, they also did the distressing, which is always fun for kids to do. They helped paint and decorate it too.
We just grabbed some scraps started laying them out. Told the kids we were going to make a square and then trimmed the boards that were too long.
When we got to the painting part I couldn't find my foam star stamp. Not a problem for this crafty mommy. Just grabbed a potato and made one myself. How?
Click Here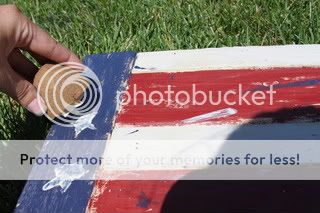 Imperfections add to the character and the kids did great! They had fun, I had fun. We had something fun to do at home today and it didn't cost us anything.