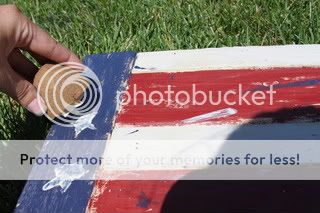 This is a great activity for anytime of year. Whenever you play with paint this can be fun. We happened to find ourselves in a situation where we needed a star stamp. We didn't have one on hand so we made our own out of a potato. Lucky for us we had two old wrinkled ones in the house that worked great!
What you need:
Potato
Knife
Paint
Paper or T-Shirt or whatever!
Paint brush
How: Cut potato in half. With your knife carfully cut down into the potato face an outline of the design of choice. We did a star. Then cut into the sides of the potato until you cut to your design line cutting small parts away until you are left with your raised design.
We used the paintbrush to apply paint to the end. You may want to dry the wet serface of the potato off a bit before you start stamping. We did shirts like this one year for the 4th of July when I was growing up.
Love the differnce between my older two kids pictures.
Showing their artwork.
Little brother wants in on the photo action.
The proud artist.