Dress up your garden, by dressing up your rocks.
What you need:
Craft Paint
Small Paint Brush
Clear Coat Spray Paint
Rocks
You can make a sign out of anything!!! So I did. I had two large rocks back in our
children's garden
. They were just hanging out back there not doing much so I decided to put them to good use. We grabbed our paints and got working.
The kids painted their choice of rocks too.
A lady bug, and a blue and red masterpiece.
Here is what I ended up with, while trying to keep my curious one year old from getting paint on his clothes.
Once they are dry you need to get out your clear coat spray paint. This is my cute little can. This is not my first project with it so next time I am going big!
Spray a coat and let it dry and spray again. You can do this project on wood as well. Here are some signs my daughter and I made 3 years ago out of scrap wood. They are starting to weather a bit. These had two coats. A third probably wouldn't hurt.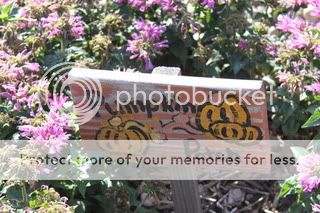 Yes... I know those are not pumpkins. They didn't make it.
Once they are dry place them by their corresponding plants.
Actually, I am not sure if this is zucchini. It could be summer squash or Cucumbers. I will know for sure in a few weeka. Although I shouldn't have this problem next year, thanks to the rocks!