Go Green in your child's lunchbox this year. Don't spent your money on plastic lunch bags that you use once and toss after lunch. Make yourself a set of reusable, washable, lunch bags.
What you need:
100% nylon rip stop fabric (comes in tons of colors even camouflage and is BPA free)
Sew on Velcro strips
Scissors
Ruler
Sewing Machine
How:
Cut your fabric into a 14" by 8" rectangle
Stick your Velcro strips together and measure out a 6.5" strip.
Fold both ends over 1/2" and sew a 1/4 inch seam on each end.
Separate your 6.5 inch length of Velcro pieces and center each piece on an end of the bag covering the visible cut edge and the stitch line you just sewed. Sew Velcro in place.
Now stick your two Velcro strips together. Sew 1/4 inch down each side of your bag starting at the top.
Fold your raw edge over on your stitch line. (do not iron)
Then carefully fold it over once more tucking the raw edge under. Pin in place.
Sew down each side again to secure raw edges and you are done!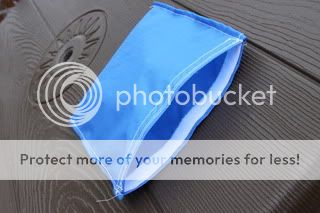 Fill with favorite sandwich, grapes or carrots and pack them in your lunch box.
You can make smaller snack sizes too by changing the length of your rectangle.
Turn them inside out and toss them in your washing machine and tumble dry on low setting, then they are ready to use again.