Dress up any party or special occasion with this easy to make, yet impressive looking banner.
I had seen these in photos of parties planned by professional party planners and knew I could easily make them myself. I know you can too!
What you need:
Scrapbook Paper
Scissors
Computer and Printer
Scrap Paper
Glue Stick
Hole Punch
Ribbon
How:
To make your letters, choose a font on the computer you like and change your font size to around 300. Some fonts are just generally larger, so play with the font until you get a size you like.
Then print it out on scrap paper of course, and holding it on a piece of scrapbook paper. Then cut around the letter shape.
Using your cut out letters as a guide for size draw out a triangle shape that the letter will fit on. Use this one for a pattern and make as many as you will need for the letters you are using.
Use a glue stick or other adhesive of choice to attach the letters to the triangles. For this banner I used my son's Korean name on the banner for his first "Dol"zz or Korean tradtional first birthday celbration.
Use a hole punch and punch one hole on each corner of the top of the triangles. Using ribbon string the triangles together in the correct order.
Hang up and you are finished! A professional look without spending much.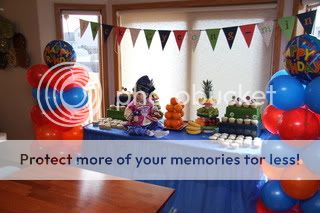 Also check out the post on how to make your own
Balloon Towers
like in the picture above.
MOPS Creative Activity
: This can easily be a good MOPS Creative Activity by changing it to a banner that has the word JOY around Christmas time. It would involve making a pattern pieces for moms to trace for the letters J, O, and Y. and a pattern for the triangle. Then they would trace, cut, glue ,punch and string on some ribbon. They would take home the fun knowledge of how to make a banner for their children's parties, and also have a nice Christmas Decoration for their front door, windows, or fireplace.