Camping is something I consider fun! Yet with three kids 5 and under it is not something that is easy. To complicate things my husband is not a camping kind of guy, so heading off into the wilderness alone with my crew is not something I am able to do at this point. Maybe someday!
Until then we just have to settle for our alternative. Backyard Camping!
What you need:
Tent (if you don't own one, borrow one!)
Sleeping bags
Flashlights
Bedtime Story Book
A Flexible Attitude :)
Walkie Talkies (optional)
Fire pit (optional)
Smores Supplies (optional)
How:
Pick a good spot in the yard and set up camp! We backyard camp at least once a summer. This was our third summer!
Setting up the Tent 2009
We like the spot by our pine trees so that it seems more like we are in the wilderness.
We do the regular camping activities. Yard games, hikes around the block looking for nature items such as sticks rocks etc. Fire pit for smores, campfire songs or stories.
We use our tried and true recipee for
Mini Candy Bar Smores
! They are the best!
We like to read one bedtime book by flashlight in the tent.
This year we choose "Roar of a Snore" a story about a boy who wakes up hearing a snore noise and searches and searches waking everyone up trying to discover where it is coming from. It is a bit mysterious which adds just enough "UNKOWN" to make it a good camp story for my 3 and 5 year old. They had not read this story before our camp out so it was a fun book to read.
Backyard Camping 2009
Not only are we camping, but we are safe in our own yard, we are close to a real bathroom, and if your children, or spouse, are just not cut out for camping they can always seek refuge in their own bed.
This happened this year with my older son. This was to be his first summer Backyard Camping. He has trouble sleeping through the night even in his own bed, so he had not yet braved the backyard camping adventure. This was a great way to see if he would be capable of camping away from home. After story and flashlights out, he became curious about all the noises and then announced "I'm Done"
This is where our Walkie Talkies come in handy. We were able to contact dad inside the house, via walkie talkie, to tell him his little camper was coming back inside.
Who knows what could happen in a backyard! So dad also likes the walkie talkie connection so we can call for help if we area attacked by???? Bears???? or other critters? :)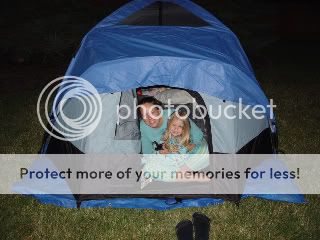 Our First Summer Backyard Camping 2008!
It is a fun family tradition for us that doesn't take too much planning or thought. We don't have to pack, and we can just announce we will be doing it if we know the weather is nice, and no rain is predicted.