Whoo Hoo. My very first reader projects post. These are some Kara's Creative Place Blog followers who have done some of the projects from Kara's Creative Place. Keep up the good work! If you have done a project from Kara's Creative Place, send me a photo on facebook or to karasdrmy@hotmail.com and you may just be featured in the next Reader Projects Post.
FROM CARLY
Carly made
Balloon Towers
for her daughter's birthday!
Carly Says:
"It was super easy- especially since I used the air compressor to blow them up! I should have either bought more balloons or made them bigger, cause I didn't have enough to go all the way to the top on each of them, but I'm totally gonna do it again!"
I love the colors you picked Carly!
FROM LARA
Lara made a dress for her daughter out of a halter top after reading
Girls Tie Strap Dress from Halter Top
Here is the Before: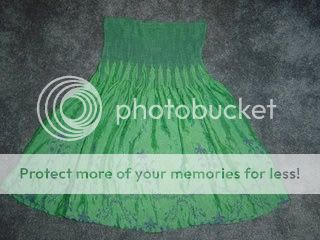 Like she said you can totally see the dress in this one already without doing anything.
Here is the After:
According to Lara,this adorable model likes her new dress!
FROM ALICYN
Alicyn's crew made
Liberty Wall Art
with a little help from Grandpa!
Nice work guys, I am glad you had fun!